"This is the kind of touch they like: folk art, archaic, made by women, in their spare time, from things that have no further use. A return to traditional values. Waste not want not. I am not being wasted. Why do I want?" – Offred
There is nothing more haunting yet fascinating than the character Offred, whose true identity remains unknown throughout the entire novel, The Handmaid's Tale by Margaret Atwood. Indeed, naming and labeling becomes an important position in the story, of who the people were in her past, the people of now, what women are in each level of society in this new world of oppression. Despite the usual heroics we see in fiction, it's the minor aggressions Offred takes pleasure in that make her strong in her own right. In addition to examining her character, the new Hulu show will be a point of contact so I hope you enjoy!
Character Basics:
Offred, which is just 'Of Fred', the commander who owns her, lives among his household as every moment of her day is watched and restricted, leaving the only solace as her room with her thoughts (and sometimes thoughts of her own end). Each day she rises and layers on the heavy red dressings and winged hat that identify her as a Handmaid (and sex slave because, let's be honest, it's exactly that). She speaks about herself in terms of past and present, revealing small characteristics, how she pursued a married man who then became her husband, her unstable mother and pushy yet fun-loving friend, how she was before the country was taken over quietly by Christian fanatics with a twisted view on how things should appear.
Relevance to Plot:
Offred is the narrator of the story and she shares  her struggles but also provides insight into the lives of those around her in deep detail. Whether she is reflecting on Moira, her lost friend who [spoiler alert!] she reunites in the new world, her husband Luke and child; or the way Rita has a stick up her ass (we're all thinking it) and the small, painful interactions between the narrator and Serena Joy.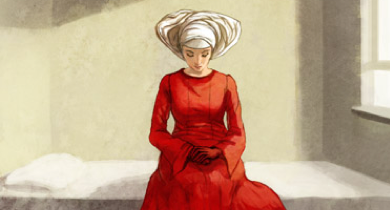 Character Growth:
Aside from her original attempt to flee with her husband, Offred's defiance comes in small ways because deep down, she does want to live, to survive, to possibly see her child and husband again. To have her life back. Her power increases within the story with the acts she chooses to become a part of–being the commander's mistress, indulging in black market items such as reading, building bonds even briefly, her relationship with Nick beyond their first few meetings, even the simple act of not killing herself. She also walks a thin line, eventually getting to see a picture of her daughter by playing the rules with Serena. What's unique about her journey is she begins with having nothing, no power of her life, grows in these small ways and in the end, accepts her fate and puts her trust in Nick, unsure of the outcome.
Why She Needs To Be Celebrated:
There is no better time to celebrate Offred and the novel itself as we face so many uncertainties for women and men in this country. There is no other way to put it. Her want to survive hangs very thin to the other side of the line of wanting it to be over which brings the reader to both depths, as our hearts yearn for a better ending, but accepting the vague and coping with the aftermath.
The Hulu rendition of The Handmaid's Tale
This story has come a long way from the pages to the small screen, but for the most part, I've enjoyed the first episode as it debuted this week, satisfied with the very ending where the protagonists name, June, was never revealed in the book, wrapped up the pilot episode. Although I feel Elisabeth Moss playing the main character is top notch and the exact person I pictured from the book, there are a few things on both sides of the spectrum as the story unfolds but this is a pilot episode so keeping an open mind is key. First, the inner monologue style works perfectly and, considering the character says few words out loud in the book, it's appropriate and with Moss's performance as Offred, it's chilling to see how well the book has translated to screen. The cinematography is also something to note, the way the colors aside from the red capes, everything is washed out in Gilead yet lively in flashbacks before the country changed. The flashbacks from the red center add a chilling touch, especially in the scene with Jeanne and her shaming (see image below).

There is one thing I have to nit pick about the show, something disappointing–Serena Joy and the Commander. They are young for the role and I thought it was an odd casting. Also, Serena's character, played by Yvonne Strahovski, isn't at all the Serena Joy in the novel, and her performance feels dry. In the book, Serena was an old crone past her TV star days that seemed aging even faster with Offred around. Also, book Serena had more moxie, was very much 'my house, my rules' and although jealousy comes to light with her, it feels a hell of a lot more deeper than it's being portrayed in the show. There were several points made about her age as well as the Commander but I guess if you cast one young person as a couple, choices must be made about their mate. To me, with such huge characters in the story, they would have been a little bit better on casting. Here are my final choices for the Commander and his wife (and because I think Offred, Moira, Janine, and the head Martha were excellent casting choices thus far):
The Current Commander and his wife:
My picks:
Lesley Manville slightly channeling but not full blown (at least the hair color) of Lydia Quigley from Hulu original show,

Harlots

.

I would also say Honor Blackman ten years ago.

John Slattery, best known in the show

Mad Men

.